Live photography show to snap the only photo in the world by the photographer Leslie Kee! "It turned out to be the perfect three (pieces)!"
META ALL-STARS Co., Ltd. (55-1, Azabudai Building, 1-5-9 Azabudai, Minato-ku, Tokyo, Harumi Omura) brings to you "META ALL-STARS", a Japan-based, world-standard athlete-specific NFT marketplace that focuses on the value of athletes themselves, who are the targets of people's support in all sports. (URL: https://meta-all-stars.io). To celebrate this, a press conference was held at the Conrad Tokyo on March 22nd, 2022 (Tue) with Tsuyoshi Shinjo as a guest, who will start selling his NFTs under the META ALL-STARS brand.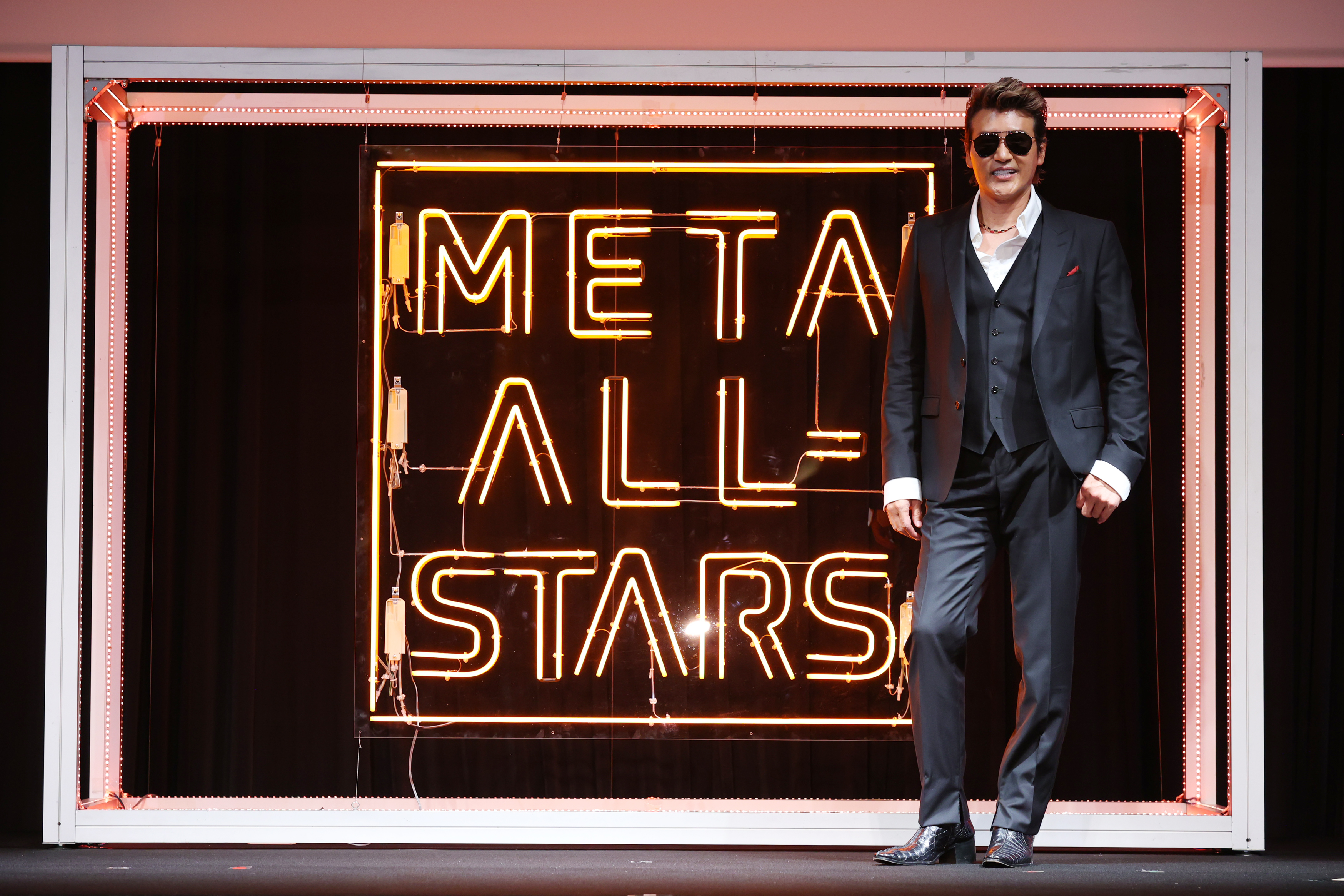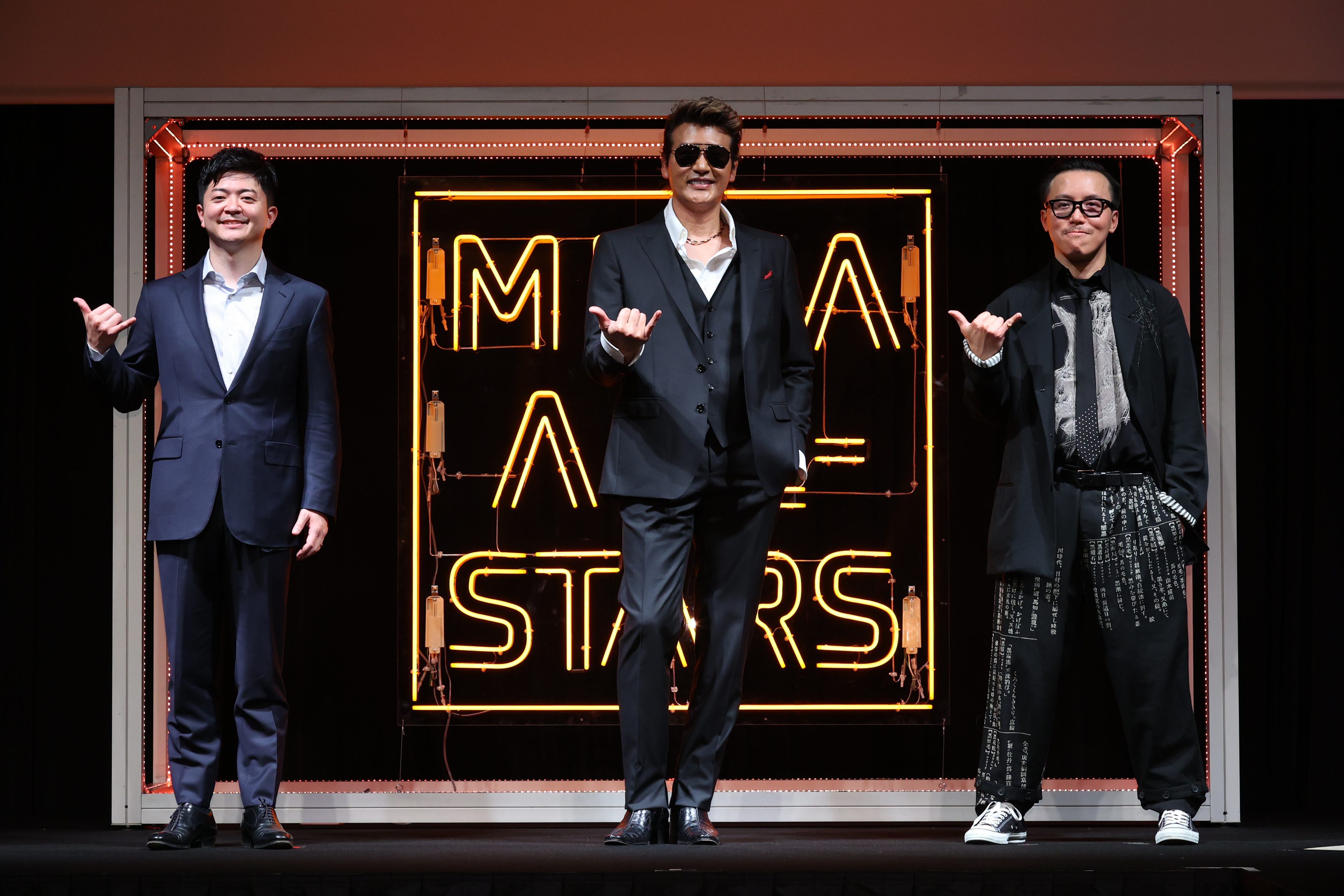 Declaration of the opening of "Digital Shinjo Theater"! "I'm looking forward to seeing what happens in the future with my involvement."
At this event, Tsuyoshi Shinjo appeared as a guest, looking cool in a black suit and sunglasses amidst the neon lights in the darkness. He greeted the audience with a speech that showed his boldness about the offer, saying, "I only found out about NFT two days ago." Afterwards, he went on to a talk session with company CEO Mr. Omura, who spoke about his decision to offer Mr. Shinjo the first project, saying, "When I thought about how athletes live their lives and how we wanted to send out unique illustrations and other things to the world as an NFT, then Mr. Shinjo first came to mind." Mr Shinjo replied, "If I had been second, I wouldn't have taken the job".
Mr. Shinjo announced the sale of his NFTs and the start of the 'BIGBOSS Fund' at the event, and seemed enthusiastic about his new challenge, saying "I'm looking forward to seeing how I can get involved in the possibilities of NFT." Regarding the establishment of the "BIGBOSS Fund", which will contribute to the development of future athletes, he said: 'I'd be happy to give away all the proceeds! I hope there will be children who will become active in the world.
Mr. Shinjo, who describes himself as a sports entertainer, said: 'Even if I am not conscious of it on a regular basis, the words I speak are cut out and would become quotes. I want to continue to make them into NFT and send them out to the world." and declared the opening of the 'Digital Shinjo Theatre' with comments that only a star could make.
Regarding the NFTs for sale, Mr. Shinjo professed that "basically I like them all because I like myself". Taking a show of hands from the visiting media, he selected the top three pieces out of the 100 photographs.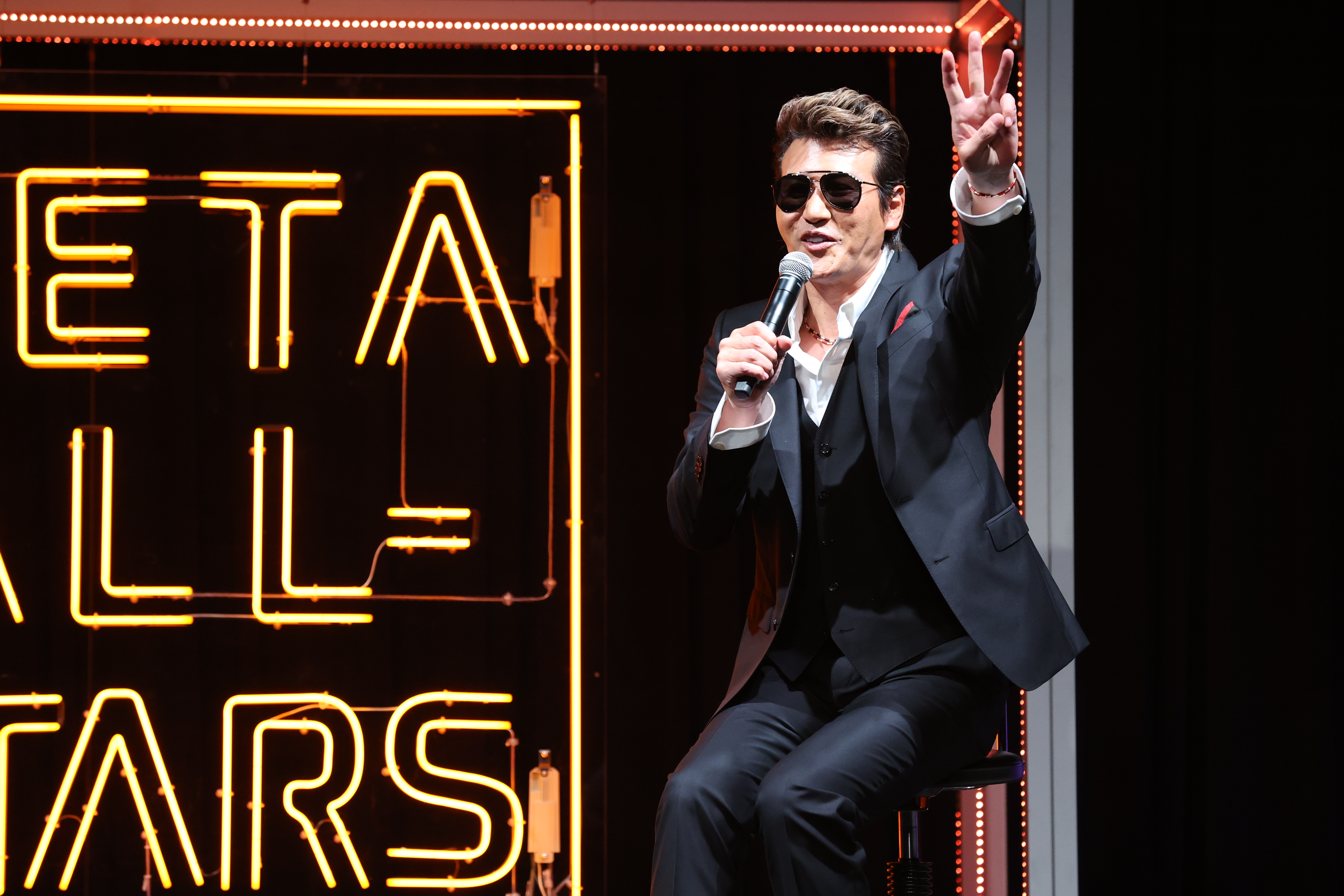 Presentation by Shunyo Omura, CEO of META ALL-STARS Co., Ltd. "I want to develop an exciting new sports entertainment."
At the beginning of the presentation, company CEO Shunyo Omura explained the business and gave a presentation on the content and future prospects of the business. He expressed his thoughts on the new business, saying: "Under the motto 'ARTISTS OF SPORTS', we would like to convey the excitement and records created by athletes to the world like artists, as a new and exciting form of sports entertainment." It was also announced that the company will not only be a marketplace, but also a communication platform for fans to connect and share their passion.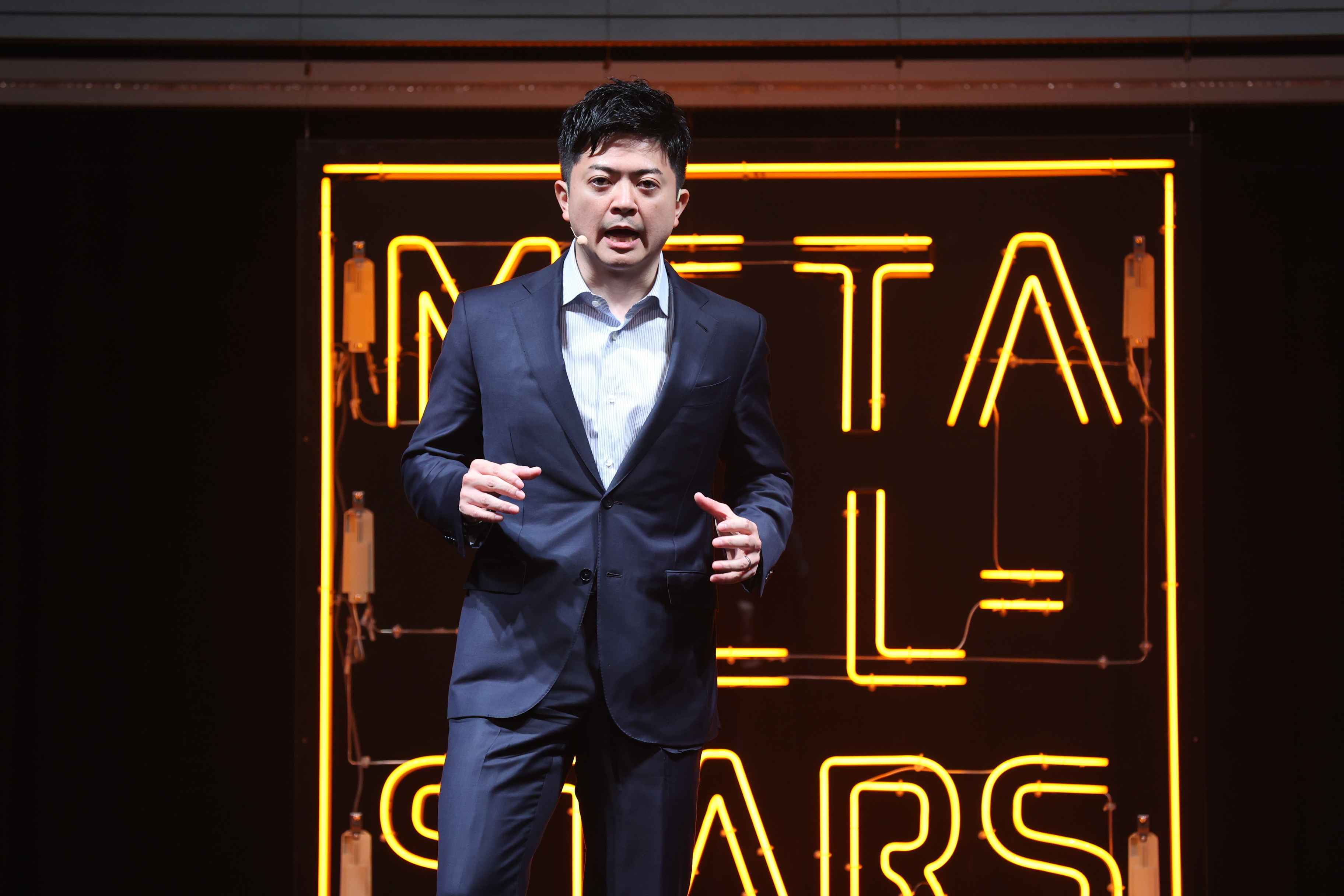 Photographs taken by world-famous photographer Leslie Kee from the live photography show are immediately available as NFTs! For the world's first attempt ... "It's the three perfect pieces!"
This was followed by a live photography show of Mr. Shinjo's NFT by Leslie Kee. Commenting back to when he received the offer, Leslie said, "I came here looking forward to the photoshoot because NFTs are a hot topic at the moment. I also haven't photographed many athletes before, so I wanted to capture the dynamic feeling and the Mr. Shinjo's way of life". For the live photography show, Mr. Shinjo also asked us to "focus on silhouettes rather than facial expressions and take well-balanced shots".
Each photograph, the only ones in the world, taken at the presentation were immediately converted to NFTs on the spot. Mr. Shinjo seemed to be enjoying himself throughout the world's first photography of this kind. He commented on the world-renowned photographer Leslie Kee doing the photoshoot: "It turned out to be three perfect pieces. It was a great pleasure to be photographed by someone who has photographed so many famous people." He told us. Leslie, who plans to collaborate with various athletes as a special photographer in the future, also said, "I only choose photos I really like, so I was surprised that there were 100 good photos. This was my first time doing a photoshoot LIVE in front of an audience so I was nervous, but it was a lot of fun." reflecting on his first ever attempt.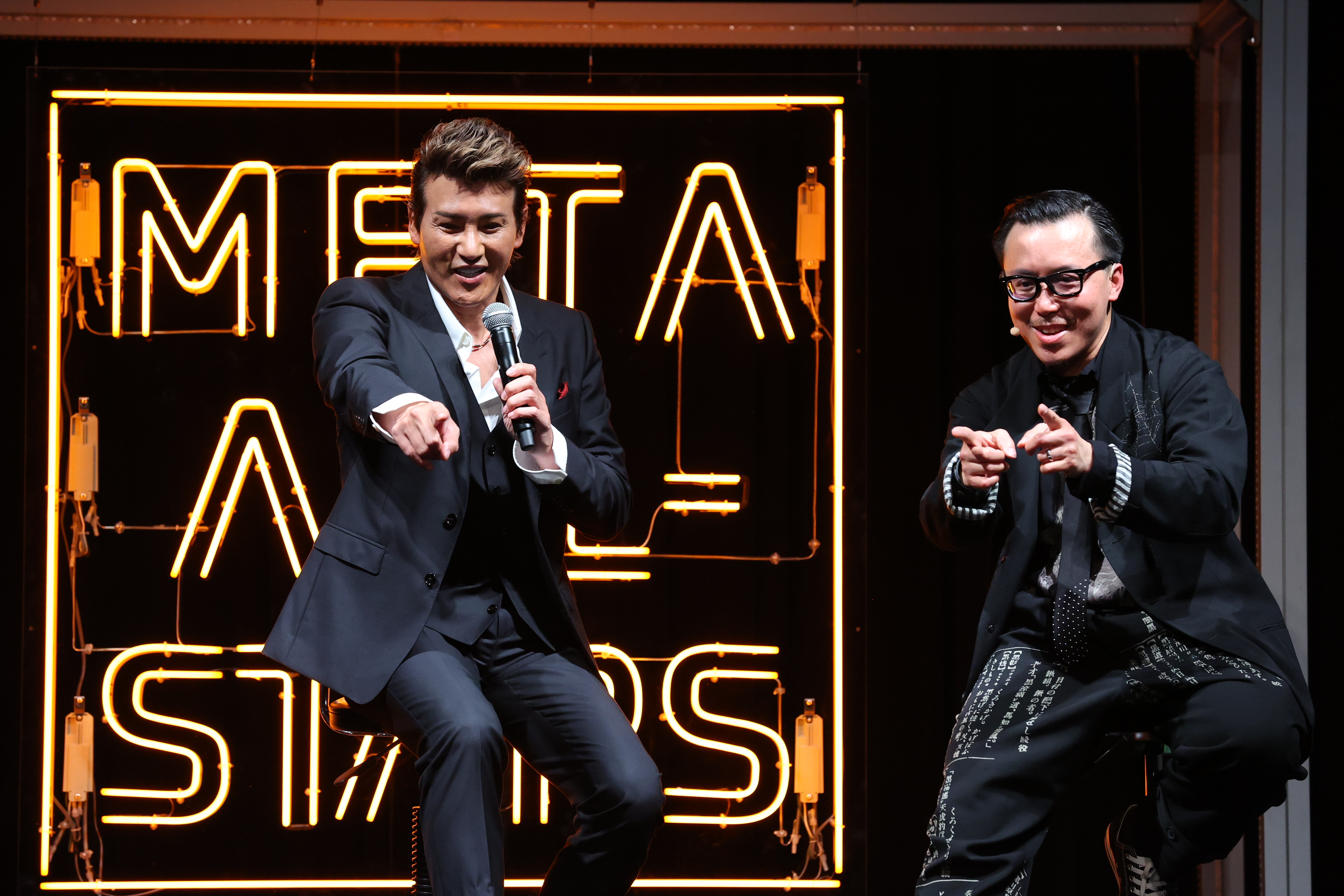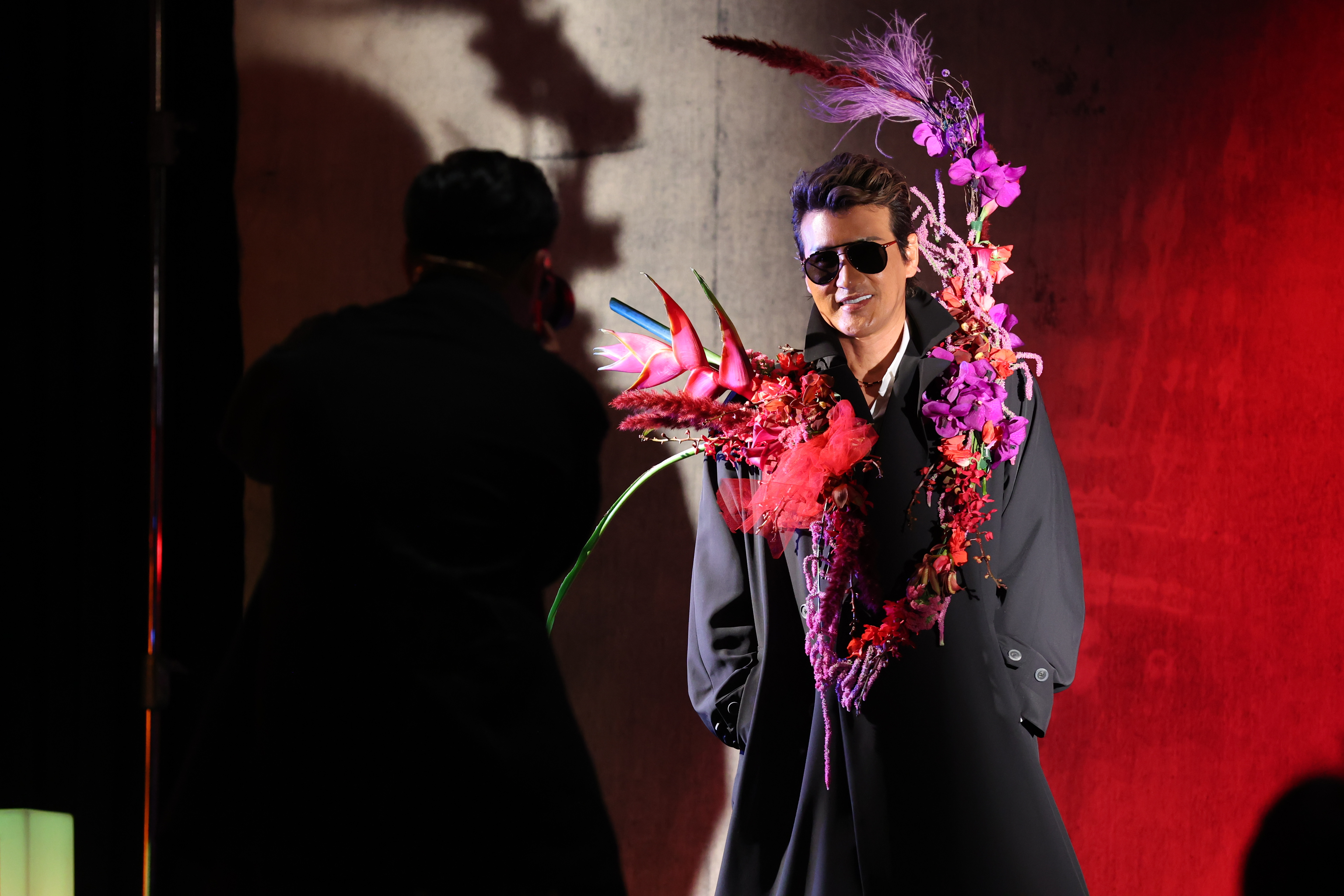 The world's first "unprecedented scene" is planned for the "Sapporo Dome Opening Game"!
At the end of the event, we invited Mr. Shinjo to ask a representative question. When asked, "What kind of scene do you want to make into an NFT?" Mr. Shinjo said, "The surprise that will be held at the opening game of the Sapporo Dome will be the world's first attempt, so I would like to make it an NFT and send it to the world. I think we can get a good amount of NTF material! " Also, when asked "Overseas, Otani's NFT is about 10 million yen, what do you think about it?" "Otani-kun is 10 million yen, and this time I'm 10 million yen, is it okay?" While saying, "Would you like to change it to 3 million yen?", He answered, "Is it going to exceed 15 million yen anymore?"
Then, when asked "What kind of person would you like to receive this NFT," he said, "I want someone who respects all my life to receive it." The press conference ended with great success.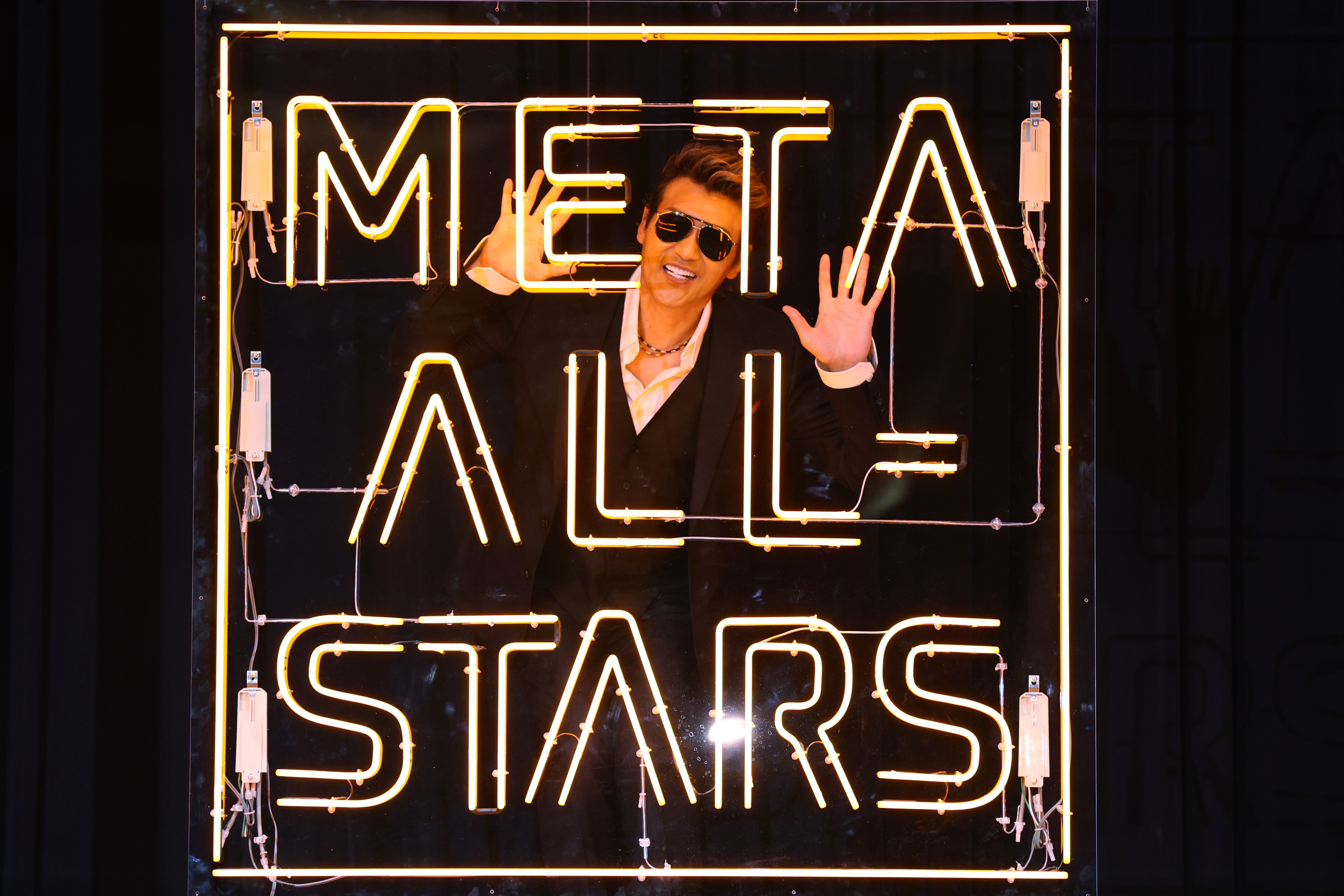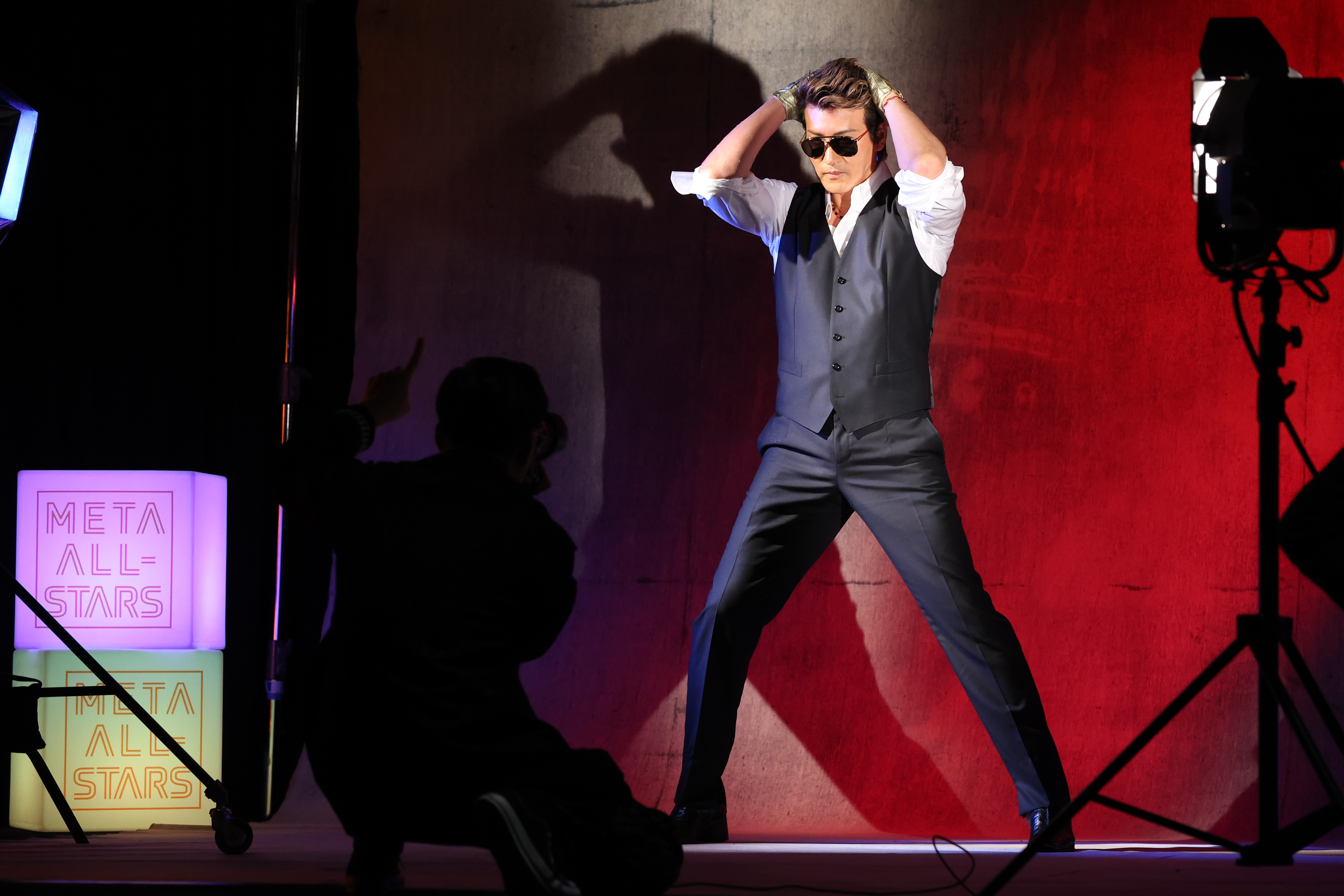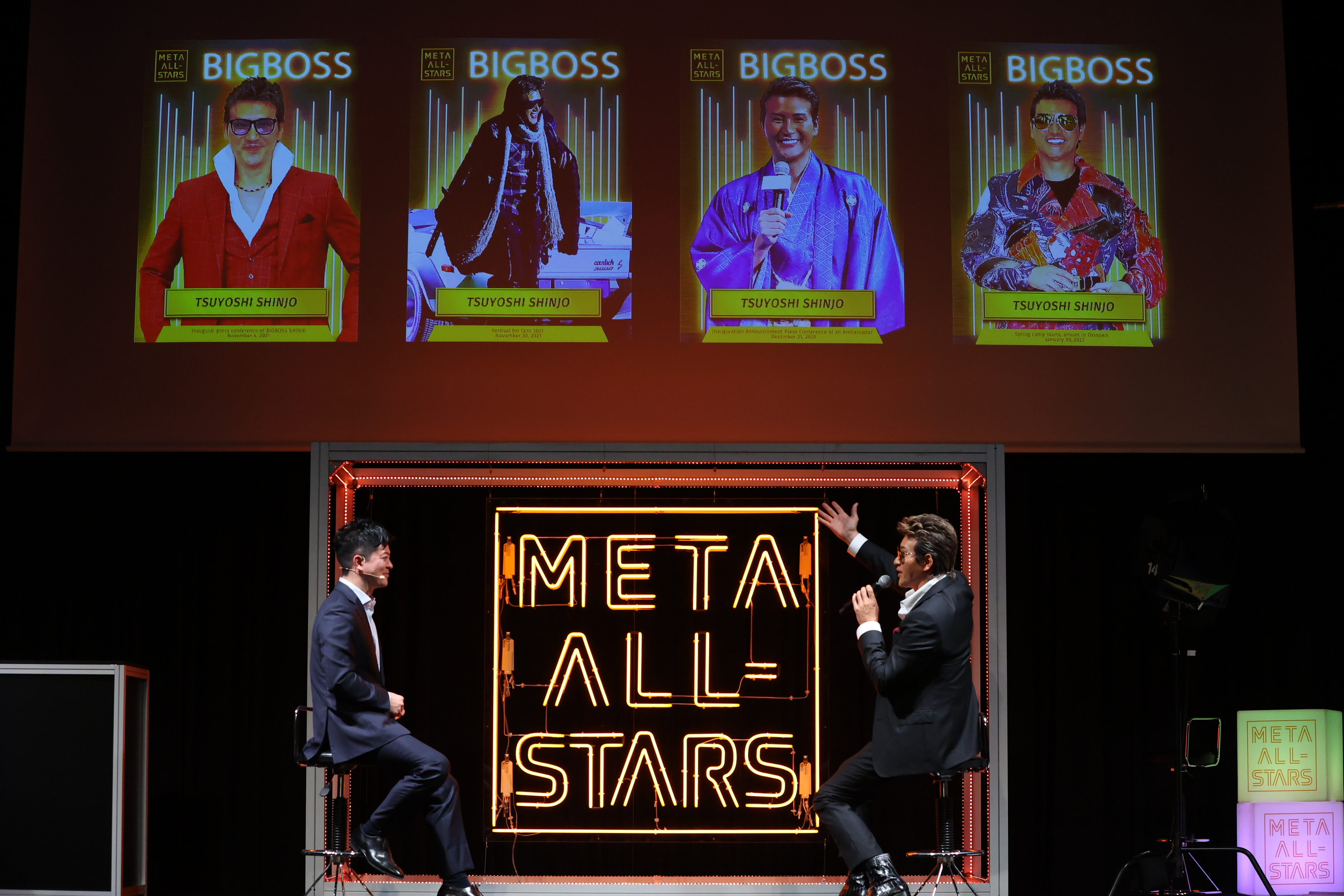 Outline of "BIG BOSS Tsuyoshi Shinjo NFT Release Commemorative Presentation"
■ Sunday, March 22, 2022 (Tuesday) 13: 00-14: 15
■ Meeting place Conrad Tokyo Annex 2nd floor large banquet hall "Funami" (1-9-1 Higashi-Shimbashi, Minato-ku, Tokyo)
■ Guest Tsuyoshi Shinjo, Leslie Kee
■ Speaker Harumi Omura, President and CEO of META ALL-STARS Co., Ltd.
■ Contents Business presentation / Talk session / Mr. Shinjo's photo shoot by Leslie Kee (NFT sales planned) / Photo session / Representative question
What is "META ALL-STARS"?
"META ALL-STARS" is a sports-specific NFT marketplace that expands in Japan and around the world, and develops various types of NFTs in order to value all aspects of all athletes, including active athletes and legends. It is a service that goes on. Images of the athlete's legendary memorial scene, design images based on Kotoba such as athlete's quotes and sayings, and art series by athlete x various creator collaboration can be purchased as NFT contents. You can collect NFTs of your favorite athletes and enjoy your favorite scenes and designs anytime and many times. We will continue to release NFTs for various athletes from time to time.◇ Service URL https://meta-all-stars.io◇ Twitter Japanese version @MetaAllStars◇ Twitter English version @MetaAllStars_EN
Guest information
Tsuyoshi Shinjo (Tsuyoshi Shinjo)
Date of Birth: January 28, 1972
Birthplace: Nagasaki Prefecture
In 1989, joined the Hanshin Tigers in 5th place in the draft from Nishi-Nippon Junior College High School. After playing for the Hanshin Tigers for 11 years, in December 2000, he challenged the American Major League Baseball as the first Japanese fielder FA player. Active in New York and San Francisco for three seasons from 2001 to 2003. Many people will be excited by the memorable play such as the first major Japanese player No. 4, the first Japanese player to hit a full-base home run, and the first Japanese player to participate in the World Series. In 2004, he returned to the Japanese baseball world and joined the Hokkaido Nippon-Ham Fighters. Always talk about the legendary performances, comments and plays. He pursued the possibilities of the sport of baseball to the utmost limit and spread bright topics throughout Japan. Shinjo, who achieved his long-cherished dream of "filling up the Sapporo Dome," took off his uniform in October 2006, when the Fighters became the best in Japan for the first time in 44 years. From January 1, 2022, he became the director of the Hokkaido Nippon-Ham Fighters.
Leslie Kee
As a photographer, he is active in various countries around the world, focusing on art, fashion, advertising photography, and video directors. The Great East Japan Earthquake charity photo book "LOVE & HOPE" (2012) was awarded the 40th APA Minister of Economy, Trade and Industry Award. His photography and art magazine series "SUPER" actively collaborates with companies around the world and fashion designers such as YOHJI YAMAMOTO. The first director's short movie "THE INDEPENDENTS" won the 2015 ASVOFF BEAUTY PRIZE AWARD. Selected as a recommended work by the judges of the Entertainment Division of the 19th Japan Media Arts Festival, a project to shoot portraits of LGBT in Japan, "OUT IN JAPAN". In addition, he produced a PV for Yu Hayami's "Koi no Bugiugi Train," which is the theme song for the United Nations' Sustainable Development Goals (SDGs). We will also vigorously carry out educational activities with the United Nations Information Center and the SDGs. From 2016, with NHK, people all over Japan will share their dreams and goals, aiming for a better future, with the theme of supporting the 2020 Olympic and Paralympic Games in Tokyo, "→ 2020 Leslie Kee's Portrait Message" start. He oversees portraits and promotional videos for more than 1,500 official photographs.